Scooters to Fill Transportation Gaps in More Neighborhoods
By Bradley Dunn
Recent SFMTA authorization enables scooter companies to deploy more scooters and expand into new neighborhoods across San Francisco. Scooters can help by offering an efficient travel choice that is environmentally friendly and fills transportation gaps, especially for shorter trips. With reduced Muni service and returning traffic congestion, the city is focused on promoting sustainable efficient modes of transportation, such as scooters, that do not contribute to congestion or pollution.
More Scooters and Areas Served
To make the scooters more available, the SFMTA recently updated the process and criteria for scooter permittees to request a fleet increase. To be eligible for expansion, they must meet key service, compliance and equity goals like a low-income access program. The companies must also serve new neighborhoods and show an increase in users and/or trips using the Adaptive Scooter Pilot, an effort to make shared micromobility more accessible to people with disabilities.
Prior to the COVID-19 pandemic, the SFMTA implemented a Powered Scooter Share Program to address the significant issues demonstrated during the pre-regulation period of shared scooters in San Francisco. SFMTA's program permitted four companies to provide shared scooters. The fleets were phased to increase over time.
Once San Francisco's transportation needs changed during the COVID-19 pandemic, the SFMTA's Transportation Recovery Plan sought to meet those needs with expanded options like scooters as the economy reopens.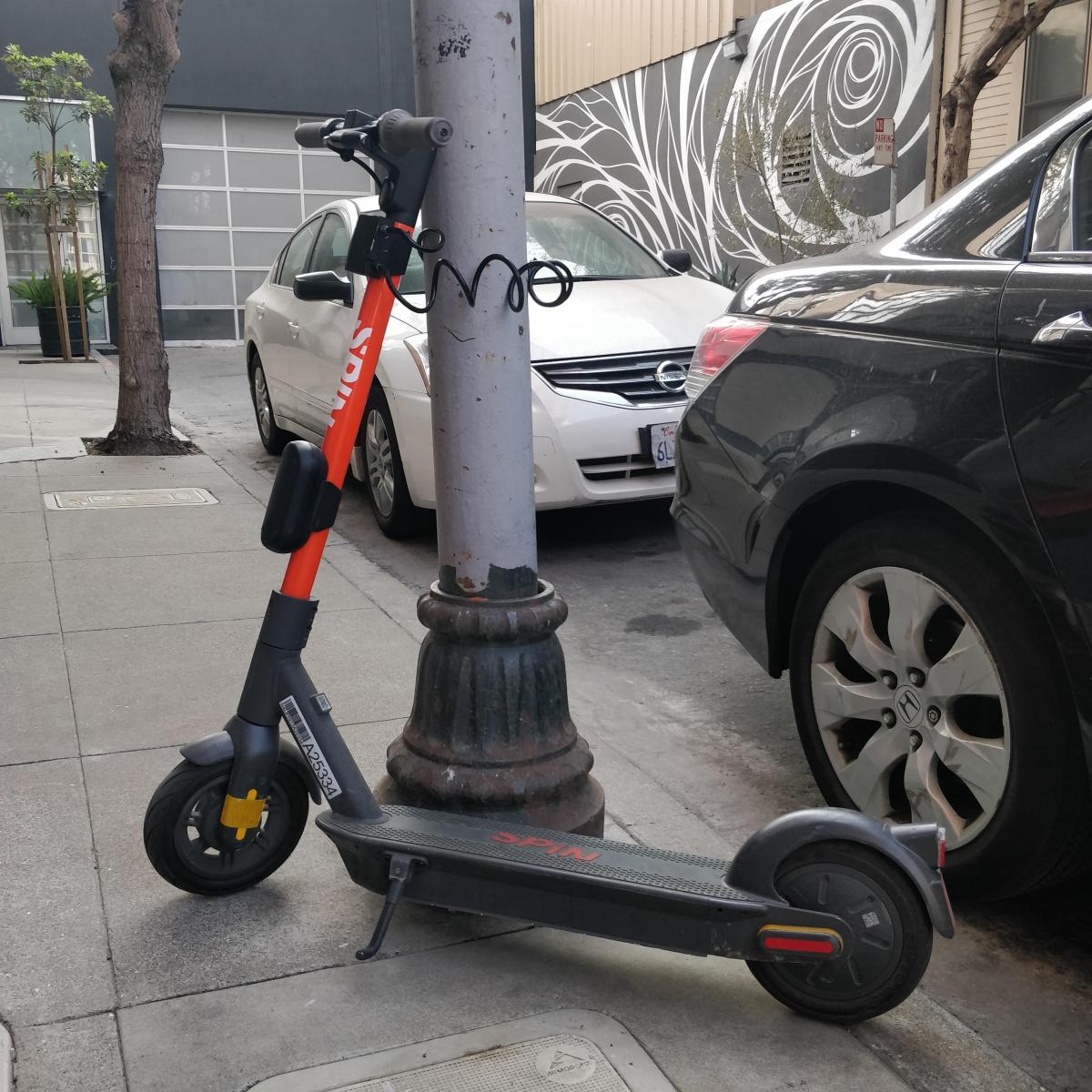 A Spin scooter parked with a lock-to device.
Companies Expanding
Spin will be the first company to expand its fleet and is authorized to add 500 devices scooters to its fleet as of September 3. With this increase, Spin's fleet will grow to a total of 1,500 scooters and operate in three more neighborhoods as required by the program: Inner/Central Richmond, Inner/Central Sunset and Haight.
Lime recently acquired JUMP, and because both companies hold a permit, we are undertaking a process to review the acquisition and approve the permit transfer. Once the permit transfer is final, Lime would be allowed to operate 2,000 scooters. As part of the requirements for that expanded fleet, the SFMTA will require that the Richmond District and Sunset District also be served.
Increased Enforcement and Transparency
With fleet expansion, the SFMTA has increased our enforcement and monitoring of scooter share to address compliance issues. The SFMTA will increase enforcement sweeps and respond to areas where there have been complaints. Robust enforcement of SFMTA's oversight functions are critical for public safety.IFor transparency in this effort, we've published a Scooter Share enforcement dashboard.

Published September 14, 2020 at 02:20PM
https://ift.tt/2RtsQKs