Revel to Provide New Shared Electric Mopeds To Fill Transportation Gaps
By Bradley Dunn
Expanding shared mobility services is an important part of the SFMTA's goal to provide sustainable mobility options. These programs support our climate change and equity goals by reducing our city's reliance on single-occupancy vehicles. On August 31, Revel is expected to launch approximately 430 e-mopeds in San Francisco helping fill gaps in our transportation network while transit service is reduced and beyond.
Shared electric mopeds offer a zero-emission choice for getting around San Francisco. Shared e-mopeds help make better use of travel lanes and scarce curb, using little scraps too small to park even the tiniest car. During COVID-19, shared e-mopeds provide a mobility alternative that doesn't contribute to traffic congestion and doesn't burden transit, helping make more room on Muni for essential workers and transit-dependent San Franciscans.
The SFMTA has approved Revel Transit, a New York-based moped operator, as a Shared Electric Moped Organization and has issued Revel 432 parking permit stickers. The permit fees paid by Revel include estimated prepayment for the use of parking meters and Residential Parking Permits of the mopeds.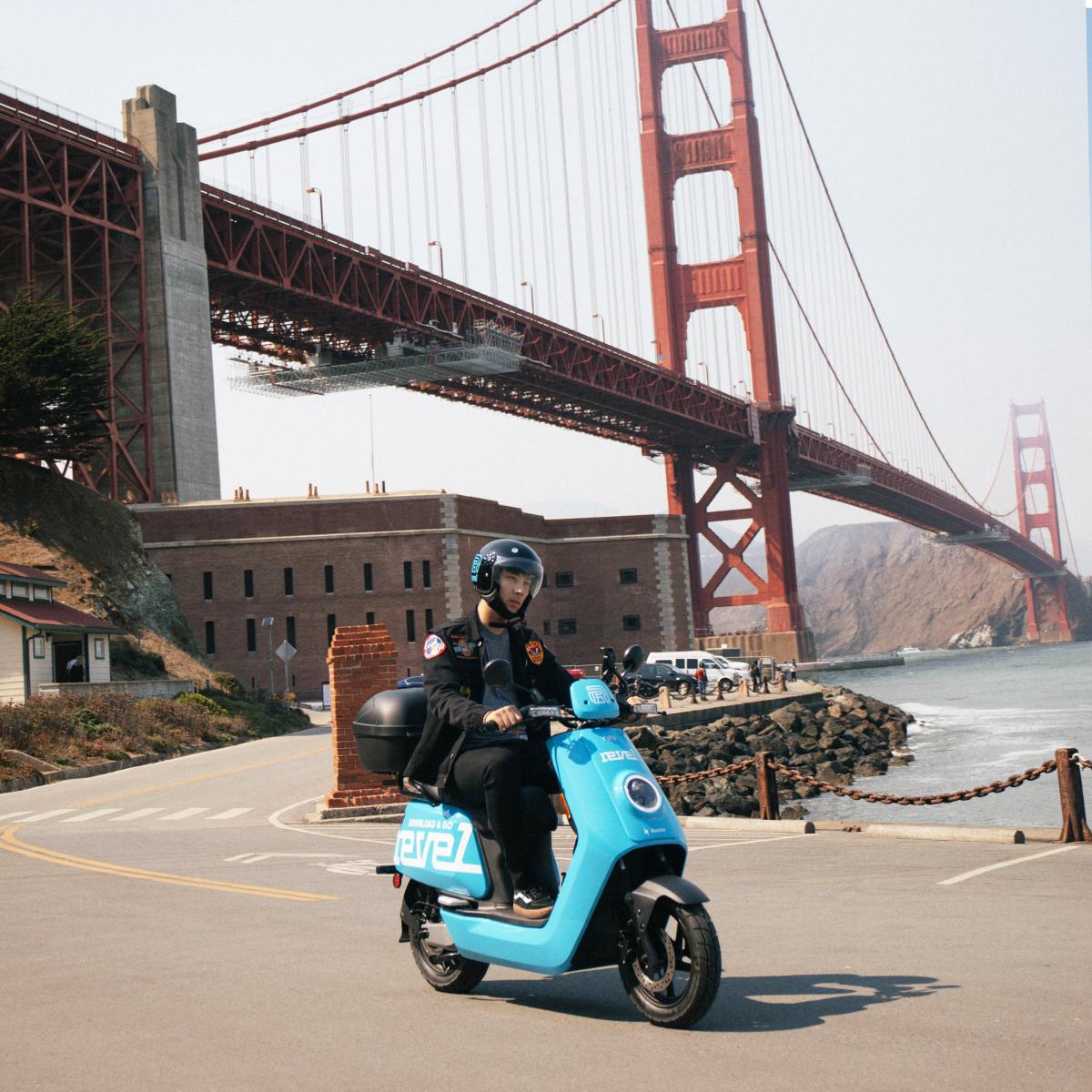 A Revel user rides a shared electric moped in front of Fort Point
The Shared Electric Moped Parking Permit exempts Revel from certain on-street parking regulations in exchange for sharing utilization data with the SFMTA. A moped bearing a valid Shared Electric Moped Parking Permit is exempt from:
Residential Parking Permit (RPP) time limit restrictions;

meter payment when parked at metered motorcycle stalls; and

meter payment when parked at the end of a full-size metered parallel stall.
The Shared Electric Moped Parking Permit does not exempt a permitted moped from any other parking restriction.
Revel will launch with a service area that includes the Haight, Tenderloin, Castro, Mission District, Outer Mission, Cow Hollow, Financial District, Dogpatch, Richmond District, Golden Gate Heights, and Pacific Heights. The SFMTA will work with Revel to grow their service area to reach every corner of the city.
Revel will also offer its Access program in San Francisco, allowing riders who are eligible for any local, state, or federal assistance programs to receive a 40 percent discount on rides. Active military and veterans will also be eligible to receive a 20 percent discount on rides.
Each Revel moped is equipped with two U.S. DOT-certified helmets that must be worn at all times. Every San Francisco rider is covered by third-party liability insurance, and all riders are required to abide by all local traffic and parking laws.
Expanding existing e-moped service to provide people with sustainable travel options is part of the agency's overall Transportation Recovery Plan. As congestion threatens our economic recovery and climate change is a continuing emergency, shared electric mopeds offer more ways to move around San Francisco without creating congestion and greenhouse gas emissions.
Published August 31, 2020 at 08:22AM
https://ift.tt/2ETH0kJ