The SFMTA celebrates 50 Years of Pride
By Sophia Scherr
As we celebrate 50 years of Pride, we continue to stand with the LGBTQ+ community, by proudly honoring our core values of inclusion, diversity, equality, and respect for all. To commemorate this monumental month, we're highlighting some of our amazing staff, their work, and what being part of the LGBTQ+ community means to them. We've also created "line pride" phone and video conferencing wallpapers for you to download and show off proudly.
Moving SF with Pride
Travis Fox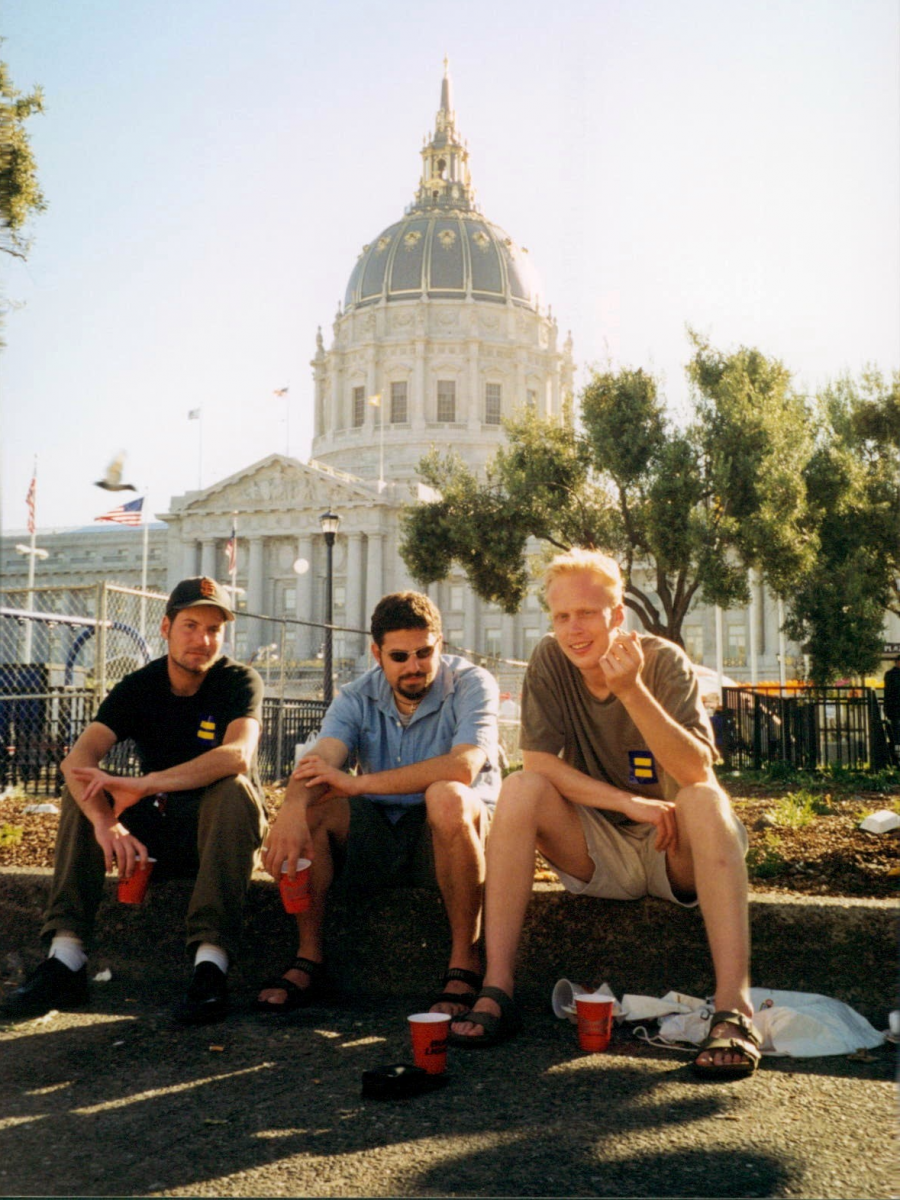 Travis Fox (right, pictured at his first Pride celebration) has been with the SFMTA since 2003 and is the agency's chief performance officer. He oversees strategic planning, performance measurement, capital project controls for the agency and the MuniMobile fare payment app. Currently, his team is supporting the COVID-19 response and Transportation Recovery Plan, as well as shaping our new strategic plan.
Reflecting on what 50 years of Pride means to him Travis is proud to celebrate the progress that's been made, "But it's also a time to reflect on the obstacles we still face, what we can do to advance change, and how we must stand up for each other along the way."
Giving back to his community is important to Travis, who supports the LYRIC Center for LGBTQQ Youth, CUAV (Community United Against Violence), and the Fundo Brasil de Direitos Humanos. "I want to contribute to smaller organizations' efforts to build the power and strength of our community locally, but also to help advance greater respect for human rights across the globe."
---
Grace Kong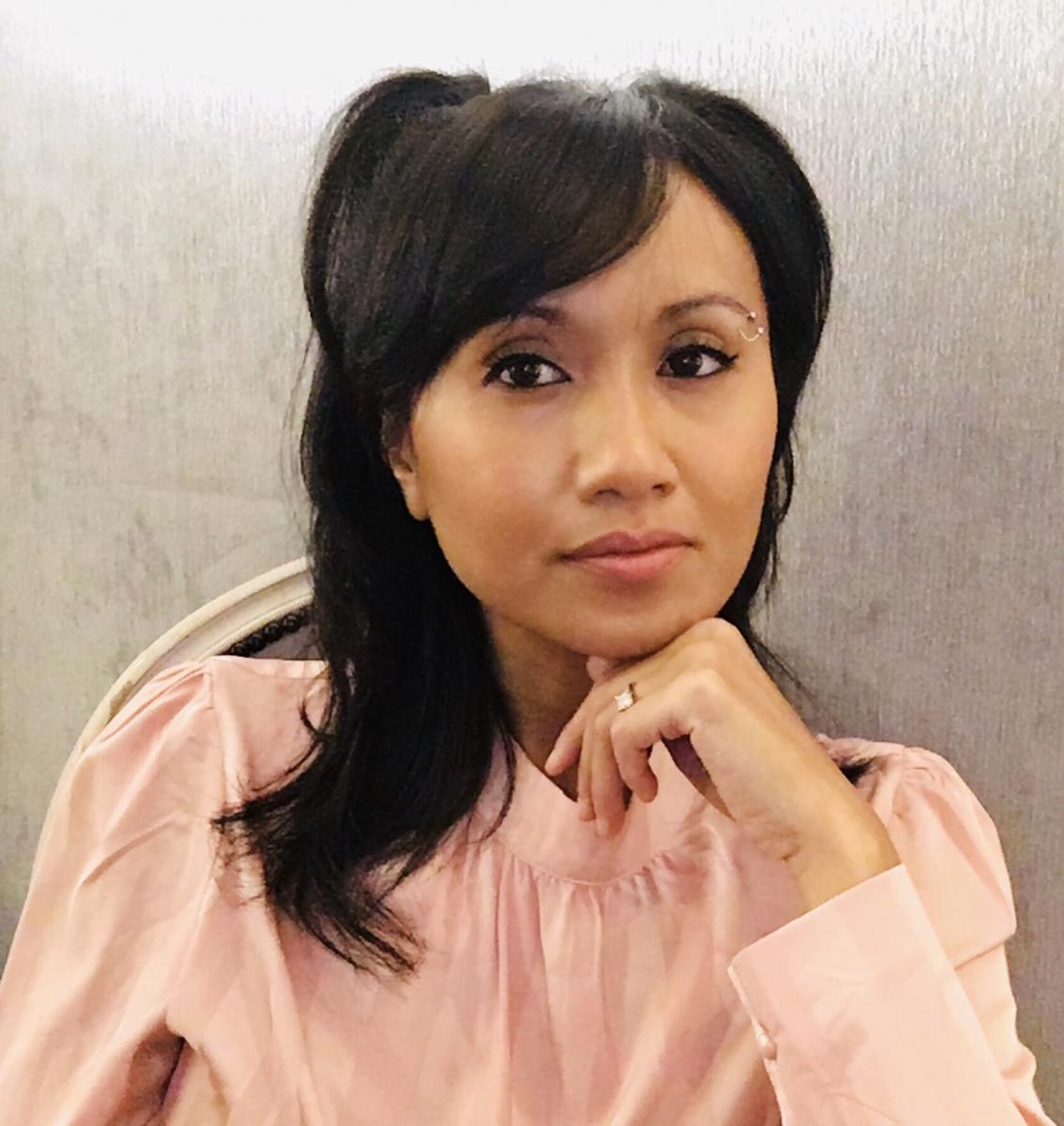 Grace Kong is the performance and analytics manager for the Finance and Information Technology division. Beginning her position shortly before the COVID-19 Pandemic began, her team primarily works on data related to the impacts of COVID-19 to the agency. Grace was born in the Khao-I-Dang Refugee Camp after her parents survived the Killing Fields in Cambodia. A nonprofit organization sponsored her family's move and eventual resettlement in the south end of Seattle, Washington.
Grace sees the beauty and diversity within her LGBTQ+ community while acknowledging the hardships that come with being part of her community, "I've had some hard conversations with family and lost a lot of friends when I first came out. I've met many LGBTQ+ people that have had similar challenges, but who also have very different lived experiences and identities from me." Grace also gives back to her community by volunteering and financially supporting the Asian Pacific Islander Queer Women and Transgender Communities (APIQWTC, pronounced API) and API Equality – Northern California (APIENC), both local grassroots organizations. Not only has she made friends through these organizations but supports them because they conduct critical political organizing and advocacy.
---
Corbin Skerrit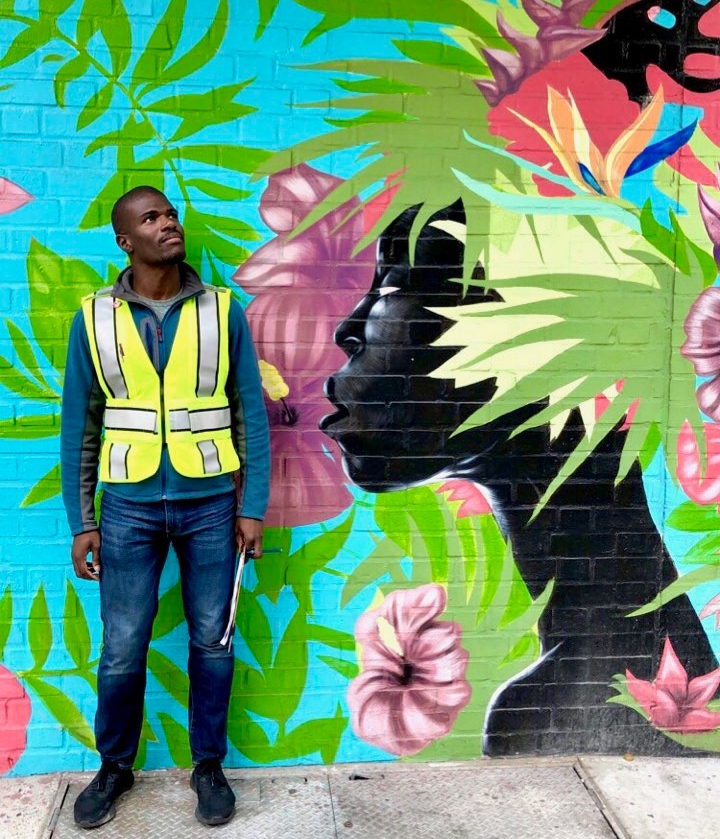 Photo credit: Teason Miao, SF Department of Public Works
Corbin Skerrit is an associate transportation engineer with the Signal Projects team in the Sustainable Streets Division. He has worked on the Gough Street Signal Upgrade Project, Noma/SoMa Signal Retiming, and is currently designing new traffic signals.
Calling the Bay Area home after traveling across the country as a self-proclaimed "military brat", Corbin has found an extended family in the San Francisco Lesbian/Gay Freedom band, using music to communicate a message and represent the community. For Corbin, the band embodies support, acceptance and personal freedom, "It has exposed me to so many concepts that live "outside of the box" when it comes to how we view, interact with, and allow ourselves to be influenced by the world around us. Corbin has hope for the future, saying "I have confidence that growing pains are sometimes necessary to learn and mature, even as a society."
---
Jesse Schofield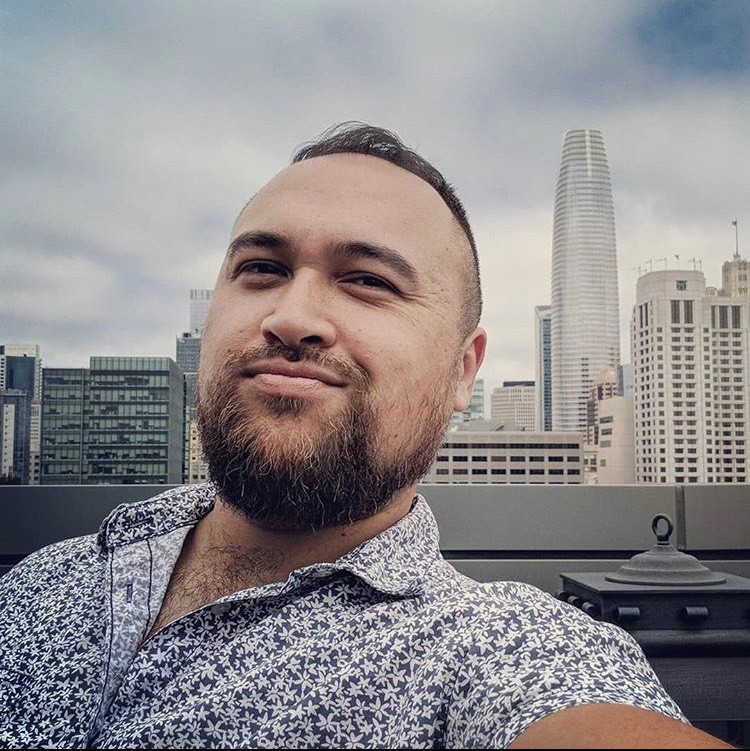 Jesse Schofield is a transportation planner with the SFMTA's Public Outreach and Engagement Team who works to ensure that our rider's web experience as seamless as possible. He helps make information regarding Muni service easily accessible and ensures critical information on our webpage is translated into several languages. His role at the SFMTA allows Jesse to merge two things that I'm passionate about – public transportation and making transportation jargon easy to understand.
When asked about what celebrating 50 years of Pride means to him, Jesse recognizes this landmark year as a reflection of both how far we've come, and also the amount of progress still needed. "We must remember that the origins of Pride were born out of protests against police brutality toward LGBTQ+ members in New York City. It is timely that we are amid another fight for change and reform through the Black Lives Matter movement. I am hopeful that this long and overdue movement and moment in history will bring about change".
---
Steph Nelson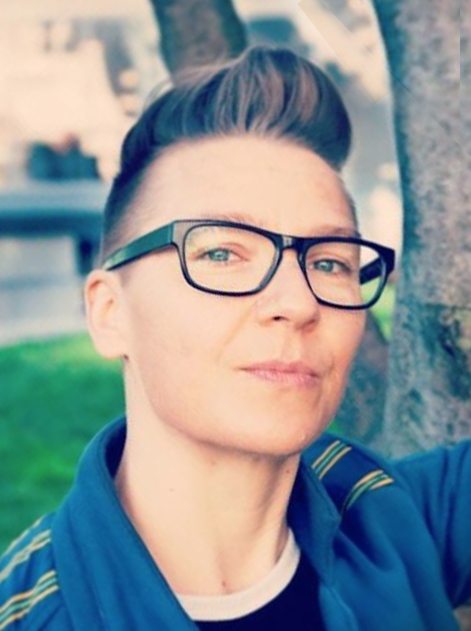 Steph Nelson began her career with the SFMTA in 2012 as a contractor for SFpark, where she managed extensive data collection and oversaw the analysis of a $40 million federal pilot that evaluated the demand-responsive parking pricing. She is now the GIS developer and administrator and spent the last five years building out the SFMTA's GIS infrastructure with the dynamic GIS coordination project team.
Before moving to the Bay Area nine years ago, Steph was an organizer of the Philadelphia Dyke March for several years. As she reflects on what 50 years of Pride means to her, Steph recognizes what Pride truly celebrates, "It is about living expansively, authentically and connecting with each other in that space of honesty and love. Taking a stand, having each other's backs, expecting more out of society, ferocity, and love." Being part of the LGBTQ+ community for Steph means that she has a family of people not only understand her, but also understand and recognize the struggles that she has been through, "They understand the clarity of purpose in life: figuring out exactly who I am, living that authentically to the best of my ability, and valuing the various forms of authentic connection with other people."
---
Cody Hicks
Cody Hicks is the acting Manager of Budget and Capital Planning for our Transit Division and has been with the SFMTA working in various divisions within the agency since 2014. He is currently working on the procurement of our agency's fleet of the future – LRV4s and the replacement of 151 legacy vehicles. "I see transportation as a way to improve cities and address what is causing climate change, which are emissions from transit."
Cody has put in a lot of thought about what being LGBTQ+ community means to him, tying the Black Lives Matter movement and LGBTQ+ rights together, "It brings additional awareness and promising traction to important issues, such as black queer and trans people's rights, who are more likely to be marginalized or murdered." Regarding his open-mindedness, Cody adds, "It has been a privilege for me to grow and learn from my friends in recent years and hear different perspectives and experiences." Finding hope for the future in the recent Supreme Court ruling on LGBTQ+ rights in the workplace, "It was an anxiety for almost all of the community with this case ruling on our protections in the workplace on the federal level. I can't think of a better decision for June as it is Pride month." He also finds hope in the surge in LGBTQ+ members running for office within the past five-years and their involvement in political advocacy, "Many are the first to represent our community. Representation is so important and is necessary for many aspects of our lives."
---
Line Pride Phone and Video Wallpapers
We've also created phone and video conferencing wallpapers comprised of Muni Metro lines for you to download, save, and show showoff proudly.
Phone Wallpaper
Video Conferencing Wallpaper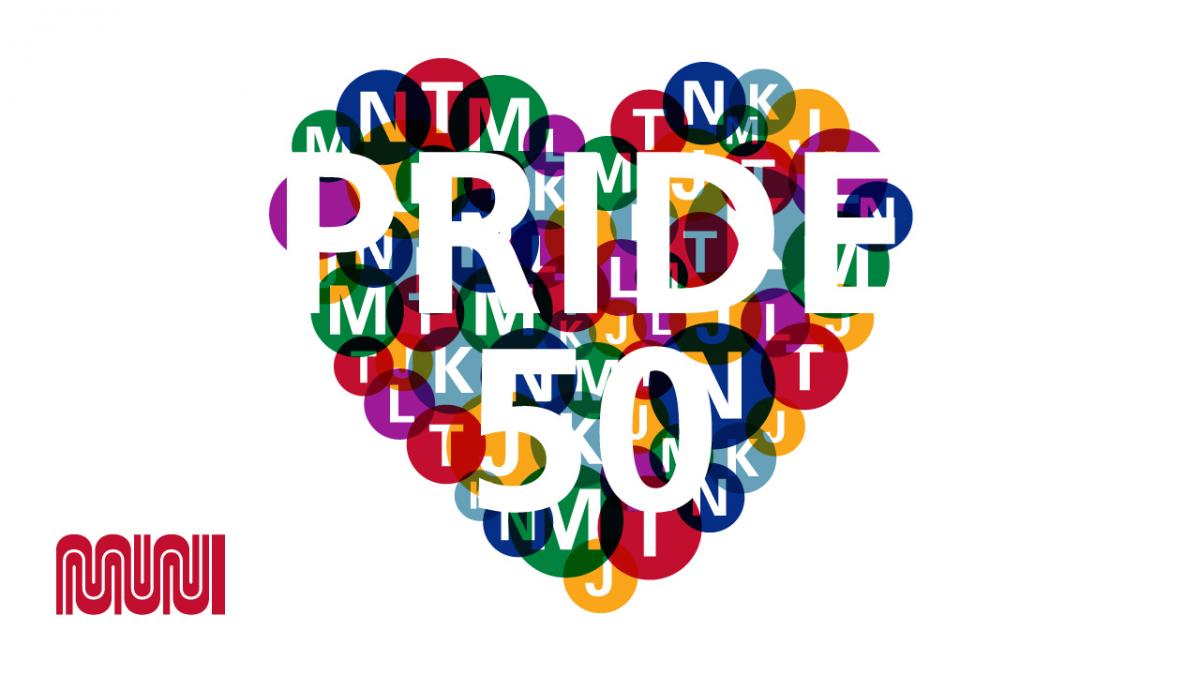 Published June 26, 2020 at 01:03PM
https://ift.tt/2NxooZd