Your Market Street Muni Service FAQs - Answered
By Mariana Maguire
Even with temporarily reduced service and lower ridership across the Muni network amid the COVID-19 citywide stay-at-home health order, there are still multiple Muni Core Service routes overlapping along Market Street.
We've rolled out new tools to provide important information to customers who are still taking Muni for essential trips, including:
The COVID-19 Ambassador Program along Market Street

New wayfinding signage for bus routes along Market Street

New signage about physical distancing and face coverings

Multilingual onboard audio announcements and PSA car cards, social media campaigns, and a dedicated website at SFMTA.com/COVID19
Even so, we know our customers still have questions — read on to learn a bit more about our most frequent inquiries:
Which routes are operating on Market Street?
Since bus service replaced Muni Metro and light rail service to help us consolidate resources, the routes currently in operation along Market Street include:
5am-10pm:

L Bus, N Bus, T Bus, 9 San Bruno, 5 Fulton, 38 Geary and 38R Geary Rapid

10pm-5am Owl: L Owl, N Owl, 38 Geary
Metro buses are only serving major stops - both island and curbs - on Market so they can move across the city quickly and serve the most riders.
Where are buses stopping along Market Street?
To help clear up where each bus route is supposed to stop, we've posted new wayfinding signs featuring the map segments below, showing customers exactly where they can find their bus.
Some bus stops are only served by Owl buses only right now, so check the wayfinding maps carefully. Some stops may only be in service after 10:00 p.m.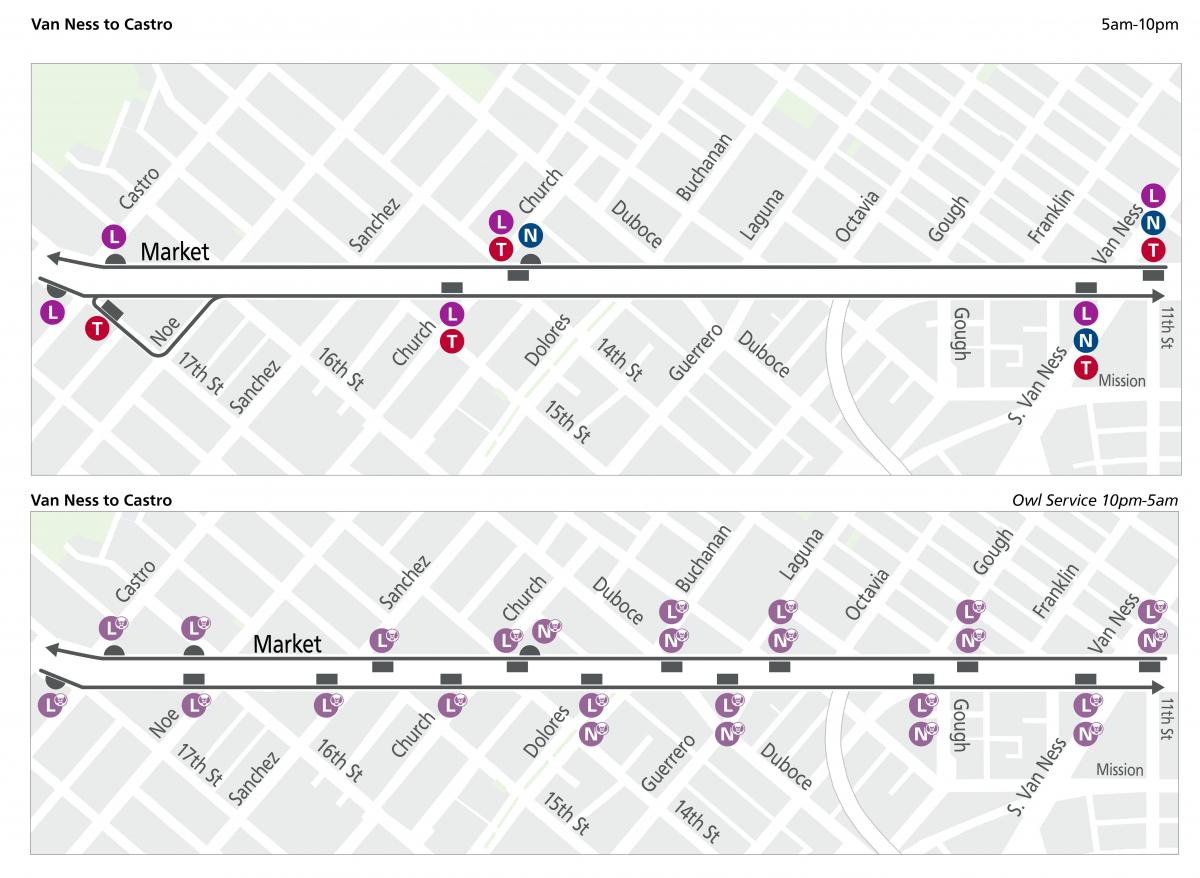 Wayfinding Muni stop maps for day and owl service from Castro to Van Ness. Rectangles indicate boarding islands. Half circles indicate curb stops.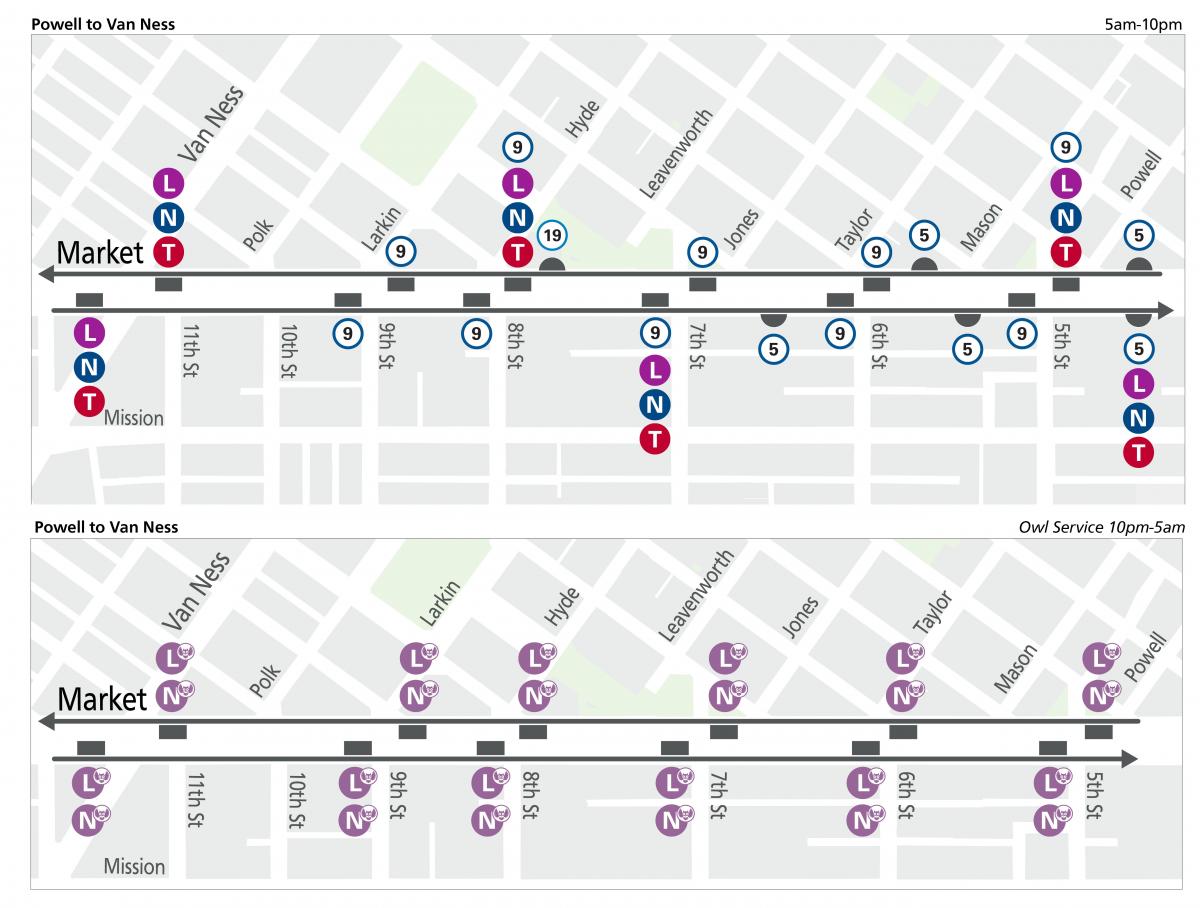 Wayfinding Muni stop maps for day and owl service from Van Ness to Powell. Rectangles indicate boarding islands. Half circles indicate curb stops.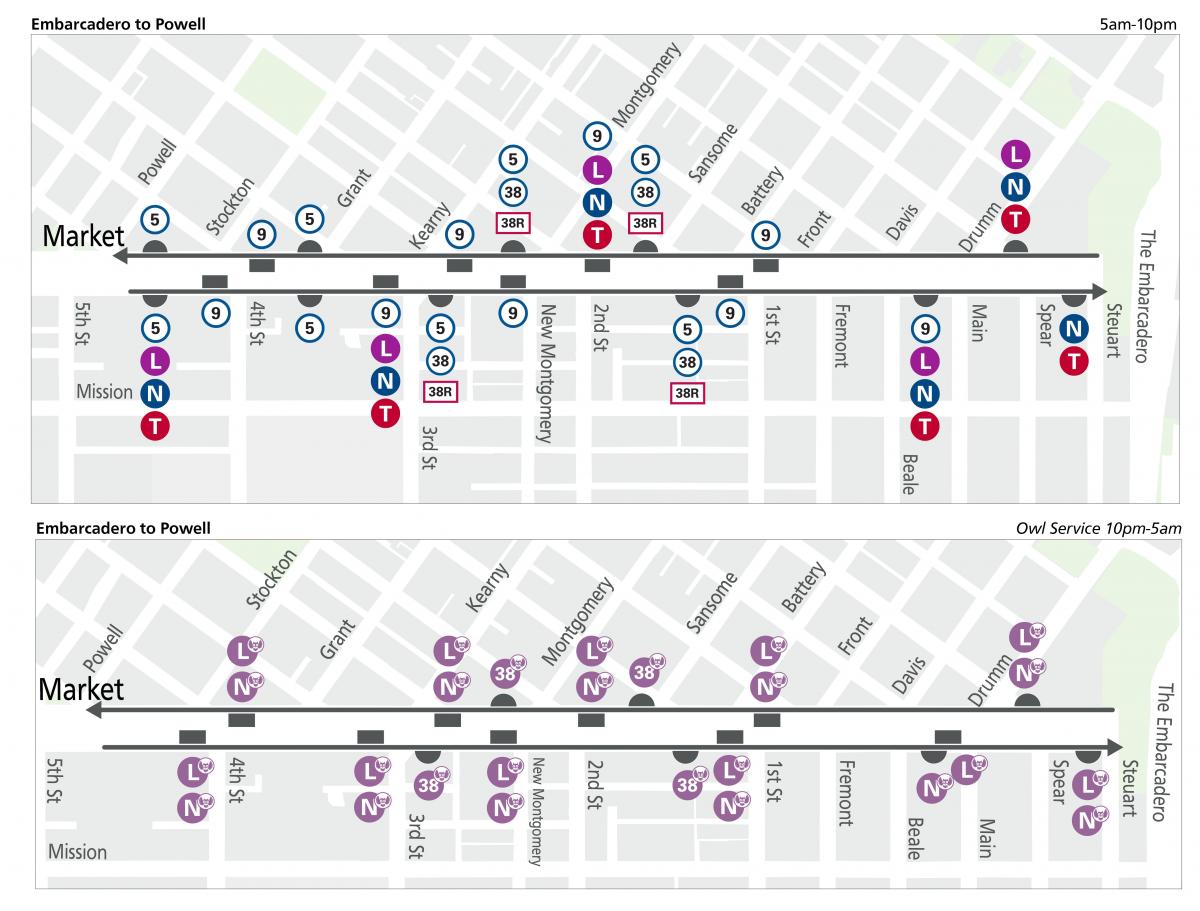 Wayfinding Muni stop maps for day and owl service from Powell to Embarcdero. Rectangles indicate boarding islands. Half circles indicate curb stops.
Why aren't there more buses in service?
With fewer operators, car cleaners and maintenance staff available during the shelter-in-place, Muni service has been temporarily reduced to focus on core routes for people's essential trips only. Based on data from customer travel patterns we've observed during the COVID-19 shelter-in-place, these routes represent the busiest lines with the highest demand. This core service provides connections to essential services like hospitals and grocery stores and is informed by Muni's Equity Strategy to provide transportation for those with the fewest options.
Some routes are running approximately every 10 minutes or less, while others run every 10-20 minutes.
We will continue to make updates to Muni's core service based on ridership trends, staffing availability, and community feedback.
Who should be riding Muni while we shelter in place?
Muni is currently operating for essential trips and should be used only if you don't have another option. This is part of our effort to comply with the shelter-in-place order, support physical distancing and adjust to staffing availability. If you are an essential worker traveling to and from your essential work, or if you are taking an essential trip for health services, social services or food/grocery shopping, and you don't have another way to make your trip, Muni Core Service is here for you.
If you are able to take other forms of transportation for any of these trips – such as walking, bicycling, or by taxi using our new Essential Trips Card program – we encourage you to do so. Every seat you save helps someone who needs it most right now and helps us maintain physical distancing on board our buses.
Why do some buses skip pickups?
Our priority is to keep core service going for customers to reach essential jobs and make essential trips. We are also a key agency in the City's efforts to "flatten the curve" of COVID-19 transmission by encouraging physical distancing and requiring face coverings. Operators may bypass stops if their buses are getting too full for customers to maintain physical distance on board. They may also bypass stops if customers are not wearing face coverings -- so be sure to wear your mask or face cover over your nose and mouth, even while you are waiting for the bus. We know this is hard for customers, and we appreciate your understanding as we get through this together.
How can Muni customers keep physical distance on Market Street?
While you wait, use ground markings at Market Street bus stops to keep you physically distanced at stops. If you don't see any pavement markings at your stop, be sure to allow about six feet between you and other customers.

Newly installed ADA and non-ADA Pavement decal markings for physical distancing at boarding islands on Market Street.
When your bus arrives, leave space as people are exiting the bus until it's your turn to board. If a bus looks about half full, consider waiting for the next bus to help others maintain distance on Muni.
While you ride, keep as much physical distance as possible on board. We ask that customers use their best judgement and remember that if you are feeling crowded, please wait for the next bus.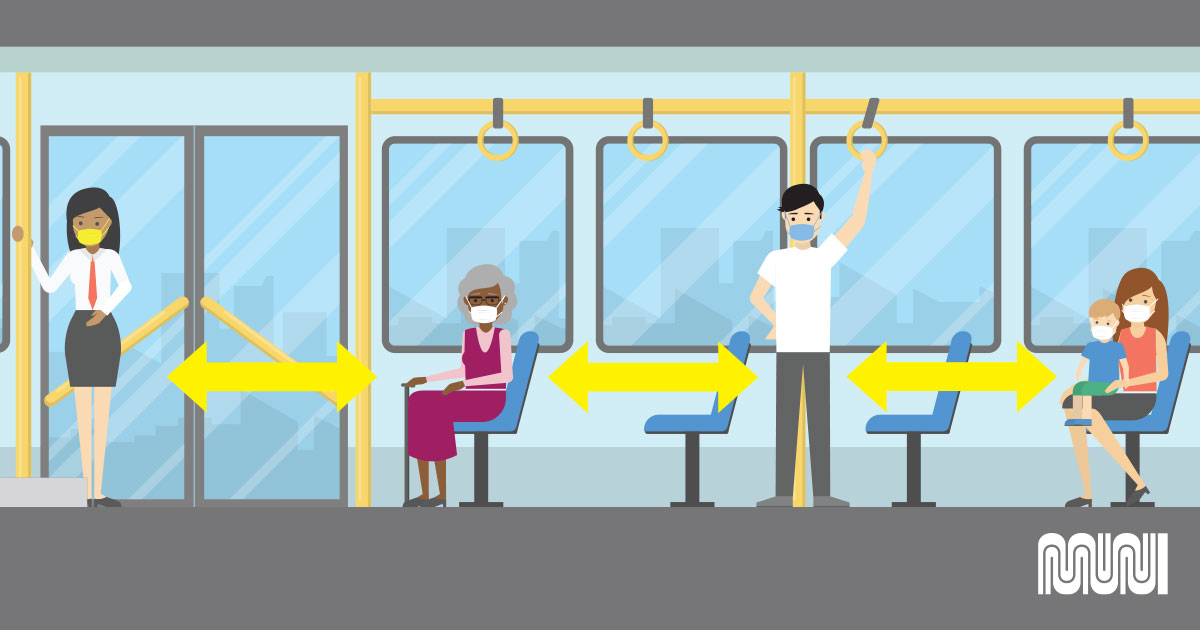 Graphic demonstrating physical distancing onboard Muni buses.
Do Muni customers have to wear face coverings?
YES! As of April 22, anyone riding Muni is required to wear face coverings. This is an official citywide health order. Your mask protects others, and their masks protect you. It's an important way to prevent the transmission of COVID-19. Only board Muni if you are wearing a face covering. Wear your face covering when waiting for Muni too!
We have observed that most of our customers have taken this order seriously and are wearing face coverings at bus stops and onboard Muni buses. We appreciate everyone who has responded by doing their part. Thank you for wearing your masks, scarves and bandanas over your nose and mouth on Muni.
Sign describing the requirement to wear face masks or coverings.
Which doors should customers use to board Muni buses?
Use the rear doors only. The front doors are for wheelchair access and for people who need the kneelers to board. Remember, give people space as they are exiting the bus.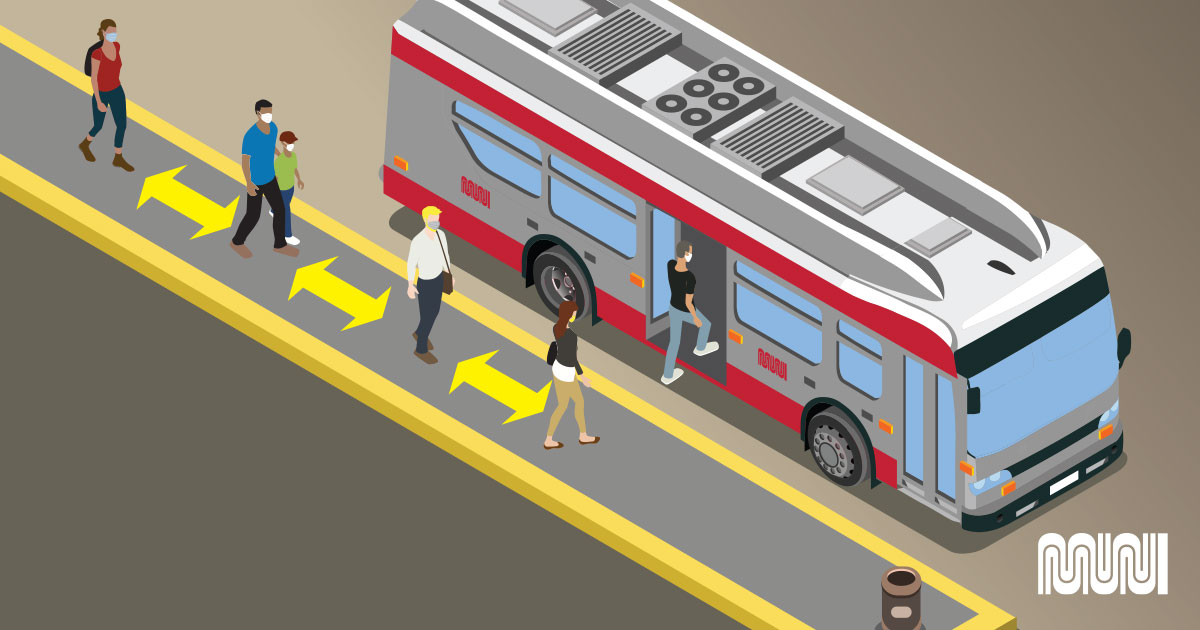 Graphic showing rear door boarding on Muni buses.
Why are streetcars and/or Light Rail Vehicles (LRVs) running sometimes?
These vehicles are not currently in service, but you may see some running along Market Street for maintenance reasons.
Got a burning question? Let us know.
Published May 08, 2020 at 12:51PM
https://ift.tt/2yDu2F2