Update: Route and Stop Changes
By Bradley Dunn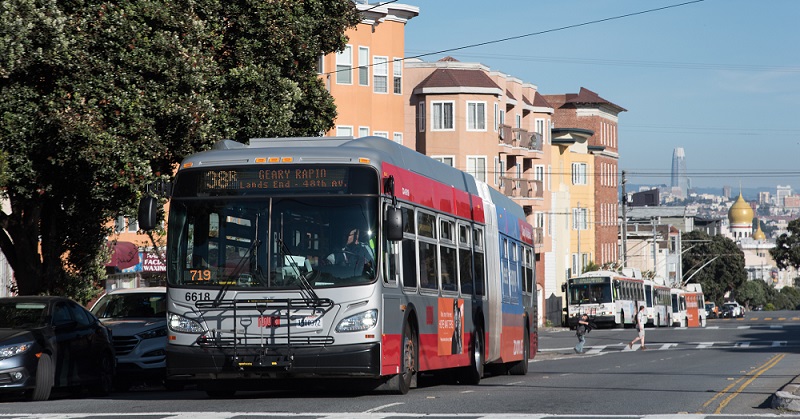 With a shortage of operators, car cleaners and other key personnel, Muni has implemented significant reductions to Muni service. The COVID19 pandemic has disrupted many parts of everyday life, including transit. As everyone is getting used to our new Muni Core Service Plan, some key routes are continuing to run but are using different stops. And, other changes have been made in response to customer feedback.
As a reminder, during this public health emergency, we are asking San Franciscans to:
Comply with the shelter-in-place directive
Only make essential trips
Use Muni only for those essential trips that can't be made in other ways
The following changes went in effect on Wednesday, April 8. All of these are in place until further notice with mulit-lingual signs-up at all stops detail the service.
K Ingleside Bus Temporarily Discontinued, T Bus Operating to Castro
The Muni Core Service Plan temporarily suspends K Ingleside service. The T Third Bus will operate service to Castro and Market. For service to the Forest Hill and West Portal neighborhoods, riders should transfer to the L Taraval Bus from Market & Castro. For service to City College, transfer to the 49 Van Ness/Mission at Van Ness and Oak﷟HYPERLINK "https://www.sfmta.com/stops/van-ness-ave-oak-st-16821".
L Taraval Bus Stops in Twin Peaks
The L Taraval Bus is making more stops than our standard L Taraval replacement bus. Recognizing that there are fewer choices with our core service plan, stops were added to the L Taraval Bus route to provide more transit service to the Twin Peaks area between West Portal and Castro. Additional Twin Peaks area stops can be found here.
N Judah Bus Temporary Extension in the Haight
The N Judah Bus has added additional stops to fill service gaps along Haight Street. This should be useful to people who usually rely on the 7 Haight/Noriega. These stops are in addition to the usual N Judah Bus replacement service stops. See the N Judah Bus' additional Haight neighborhood stops here.
8 Bayshore Inbound Reroute to Stockton Street
The 8 Bayshore was rerouted inbound (going north) via Stockton Street between Market and Columbus to serve riders heading towards Chinatown. This should help people who usually ride the 30 or 45. More information about added stops are available here.
9 San Bruno Extension to McLaren Park
Before the pandemic, the 9 San Bruno line terminated at Bayshore and Sunnydale on weekdays. The 9R San Bruno Rapid had carried riders to the Cow Palace and McLaren Park. With our new Core Service Plan discontinuing the 9R, the 9 San Bruno will run its weekend route, proving service to McLaren Park. You can find out more about the changes on the 9 San Bruno Page.
38 Geary and 38 Geary Rapid to 48th Ave & Pt. Lobos
To provide an additional option for riders, the 38R Geary Rapid returned to service to supplement the 38 Geary. The 38R Geary Rapid will serve Rapid stops only, and the 38 Geary will serve all local stops. Both the 38 Geary and 38R Geary Rapid lines will terminate on 48th Avenue at Pt. Lobos, but the 38 will serve Fort Miley Circle near the VA Hospital first before proceeding to the terminal. More info on the 38 Geary page.
49 Van Ness/Mission Extension to Fisherman's Wharf
For those going to Fisherman's Wharf, the 49 Van Ness/Mission has been extended to serve many of the 47 Van Ness stops in that area. To see where the additional stops are you can look at the 49 Van Ness/Mission page.
44 O'Shaughnessy Temporary Terminal at Forest Hill Station
The 44 O'Shaughnessy is extending farther than originally planned (only to Balboa Park) as part of the COVID-19 Muni Core Service Plan. It now operated between the Bayview and Forest Hill Station. Stops north of Forest Hill Station will not be served. By ending the northern part of the line at Forest Hill Station, we are able to preserve service to Laguna Honda Hospital from the south. To learn more, you can look at the 44 O'Shaughnessy's page.
Next Steps and Tips for Getting Around
SFMTA staff is monitoring and implementing service changes on a faster timeline than normal to respond to the public health emergency. We have made major efforts to post multilingual signage. Please take note of any SFMTA signage posted at bus stops to inform riders of any recent changes and their effective dates. We are also regularly replenishing signage and taking down outdated signage for thousands of stops throughout the city.
As our customer information systems require time to update accurate stops and route information, you may see inaccuracies in NextBus and headsign displays on buses until system updates are complete. Refer to posted expected frequenices and ask operators to confirm their destination if the headsign on the bus says "Ask Driver for Terminal."
We understand that our riders have different reactions to these changes. For some, the changes will be less convenient or eliminate service that people rely on. For others, these changes add important connections for taking essential trips. We are trying to balance our service to provide as much essential service as possible given the greater demand for vehicles to support social distancing and our shortage of operators, car cleaners, and other key staff needed to keep the system running. We encourage you to follow our social media channels to get the latest on upcoming service changes. We are all in this together and appreciate your patience during this public health crisis. Thank you!
Published April 15, 2020 at 04:18PM
https://ift.tt/34FkLrD