How We're Adapting During Coronavirus
By Amy Fowler
We're doing everything we can to reduce the risk of COVID-19 transmission, and we're asking San Franciscans to help do the same by only taking Muni for essential trips that can't be made by walking, biking or driving.
The SFMTA's number one priority during the COVID-19 outbreak is the safety of our staff and the public. With this in mind, we've taken a number of steps, including making service changes to focus our cleaning resources, improving our operators' environment and helping to amplify citywide shelter-in-place guidelines.
Beginning this week, all Muni Metro Light Rail routes are temporarily being served by Metro buses. Closing the Muni Metro underground system allows us to simplify our operations and refocus cleaning staff from largely empty subway stations to other critical areas, such as bus yards, field operations and other facilities that are currently seeing more activity. It also minimizes risks to our public-facing station agents. Because Muni drivers are cross-trained to handle different vehicle types, we have some flexibility in moving train operators to the bus shuttles.
In addition to the earlier Express service reductions, most Rapid routes are also temporarily discontinued, with local buses serving all stops. With Muni Metro ridership down over 90% and systemwide drops of about 75-80% compared to this time last year, we still expect to be able to support social distancing.
Fortunately, our buses are already equipped with a protective plexiglass barrier, something that most other transit agencies lack. After the shelter-in-place order, we acted quickly to minimize the risks of transmission to staff and the public by shifting cable cars and historic streetcars to buses that have the protective barriers. And despite challenges in getting supplies, we're prioritizing getting sanitizing supplies to our operators on an ongoing basis and implementing additional cleaning procedures.
Last week we began requesting that all passengers board from one of the back doors unless they require assistance. People with disabilities and others who need the kneeling function of the bus can request boarding in the front from the operator. To help reinforce backdoor boarding and to help remind passengers about social distancing, new signs have begun going up in buses.
We're also giving operators guidance about passenger thresholds for different vehicle types. If a bus becomes too crowded, operators can skip stops. And if needed, we're prepared to quickly make changes to continue to support social distancing on our vehicles. We are monitoring capacity daily through automatic passenger counts and assessments from inspectors on the street. This gives us a holistic view of what is happening on the street so we can make adjustments as resources become available.
We are doing our part to reduce the risk of transmission on Muni, and we need San Franciscans to do their part too. Unlike normal times when we welcome and encourage all kinds of trip on Muni, during this public health emergency, we need San Franciscans to use Muni only for essential trips and only for trips that you can't make by some other mode of transportation.
Please check the SFMTA COVID-19 Response page for the latest service and citation information. Or go to the SF.gov COVID-19 website for citywide resources about the shelter-in-place order.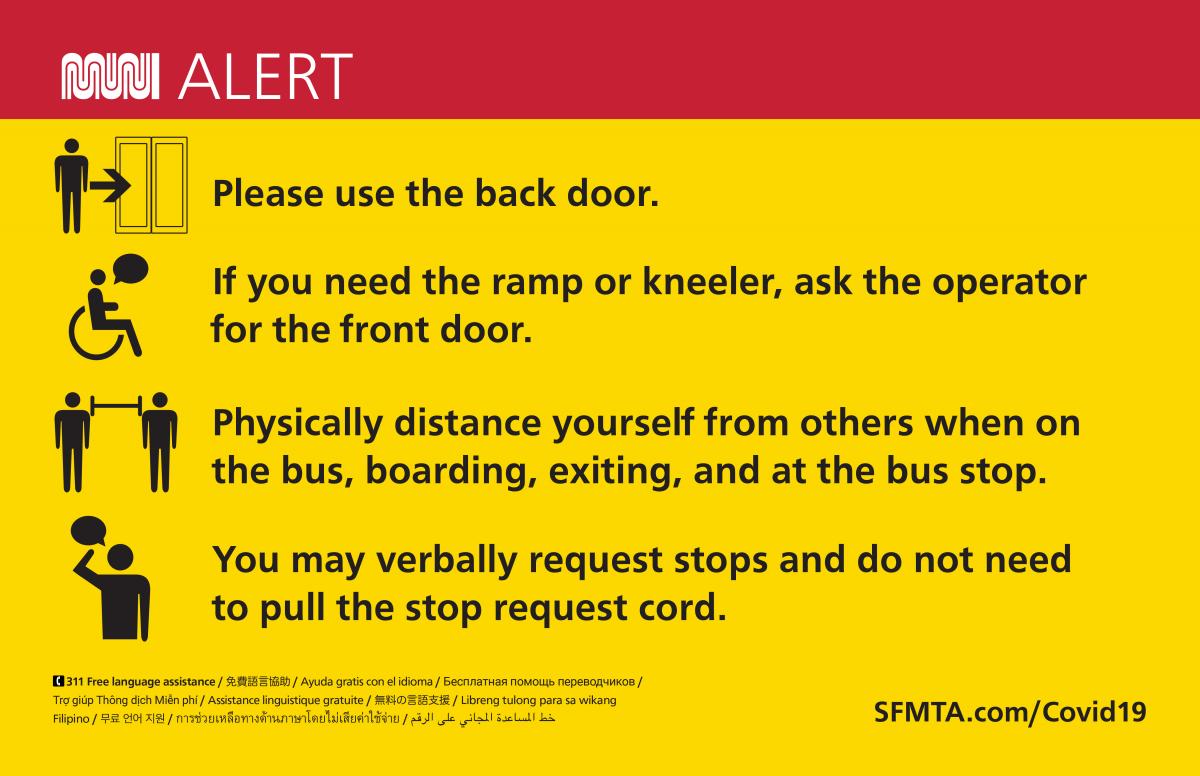 Signs are going into buses to encourage passengers to practice social distancing and use the back door for boarding.
Published April 01, 2020 at 08:15AM
https://ift.tt/2WXrETv