Transit Driver Appreciation Day, Meet Mr. Boston
By Lori Phelan
Today, on Transit Operator Appreciation Day, we would like to thank all Muni drivers for their service and dedication to the job by introducing you to Mr. Boston, aka Mike Delia, one of the 2,600 transit operators working for the City. Experience his job in his own words. And thank you Mike for your service. We see you and appreciate all you do for us and the City and County of San Francisco. If you see Mr. Boston out there on Market, be sure to say Hi.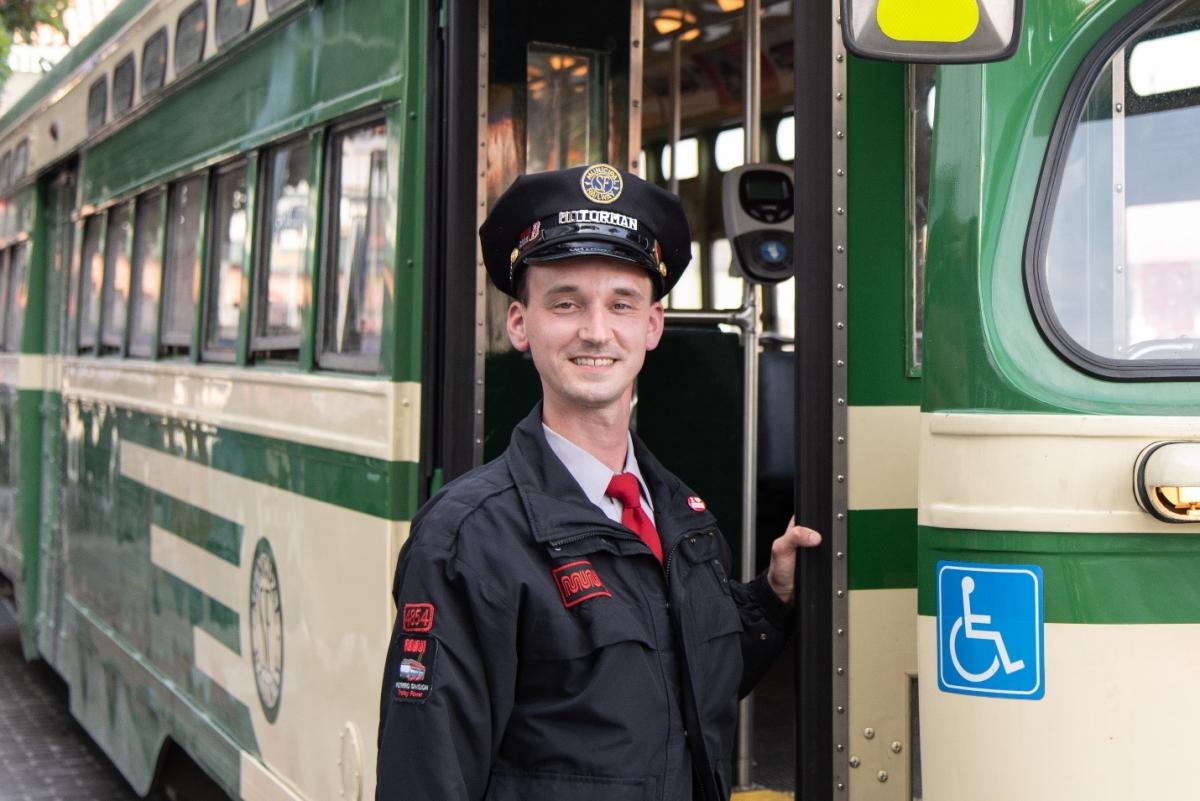 Mike Delia, Cap ID No. 4854, on the F Line, Car No. 1040. (SFMTA Photo, 2018)
Hi, my name is Mike Delia, but you probably know me better as "Mr. Boston." I'm your friendly operator on the F-Market line, and I've worked with Muni just over five years. On the cusp of Transit Operator Appreciation Day, I wanted to share in my experience since joining the City and thank all the hard-working operators for all that they do day in and day out.
Why did you become a transit operator and why Mr. Boston?
They call me Mr. Boston because I hail from Massachusetts, where I got bit by the transit bug when I was 5 years old, riding the bus with my father, who was also an operator. I got my CDL three months shy of my 19th birthday and started driving transit to help pay for college. After college, my career went in a Communications-focused direction, but I continued driving buses part-time. The company I worked for was a contractor for the larger Boston transit agency, the MBTA (essentially the "Muni" of Massachusetts), and as such offered little in terms of retirement and other benefits. Eventually, my higher love of civil service took me away from my Communications endeavors, and I devoted my efforts to pursuing a full-time career in transit. However, the MBTA hired through a random lottery process and after 10 years of trying, I set my sights on another agency and started applying across the country in search for the right job.
So being a transit operator runs in the family. I hear that a lot around the divisions. What did the decision to work for Muni look like?
With the support from my wife, we almost landed in New York City (MTA), Philadelphia (SEPTA), then Santa Barbara (MTD), before ultimately getting the call from Muni -- and yes, I did travel to all these places to take the entrance exams! I knew Muni offered the chance to operate a variety of historic equipment, which made it an especially attractive choice. Coincidentally, my wife grew up and had family in the Bay Area, so it all came together at the right time. It might sound crazy, but I like to say we "Moved for Muni!"
When I first arrived in San Francisco, I started at Potrero Division driving trolley coaches. Every line is a workhorse but Potrero is a great barn to gain experience -- and I keep in touch with many of my colleagues. Potrero, like many divisions, is its own family and will always be my home. That division is over a hundred years old, built in 1915, and I marvel that it first housed streetcars. My favorite line was the 22-Fillmore. Sure, you picked up lots of baby strollers, seniors and wheelchairs, but the passengers were mellow compared to other routes and there used to be good coffee spot at the Dogpatch terminal. A close second was the 30-Stockton. I still have a love/hate with the 14-Mission, but I always liked the 49-Van Ness/Mission (when we had it!).
You seem drawn to tradition and historic vehicles. Are they your favorite?
Three years into my time at Potrero, I had a chance to sign to Green division on a General Sign-Up and I haven't looked back. The F line and the historic streetcars are an interesting beast. You certainly deal with many tourists, but you also carry a heavy load of everyday commuters, and the line also goes straight through Civic Center, which is fraught with its own challenges. I say anyone who has driven a Market Street line can operate the F, or E line for that matter.
Are those the only challenges?
Operators new to the streetcars get nervous because the equipment is so old, averaging 70 to 90 years of age. The controls vary, some are hand-operated, some have foot pedals, people fear that they don't stop quickly, they are breakdown prone -- don't believe all that. Yes, they have their quirks and require extra attention, but they can also be very satisfying and safe to operate.
I've been a line trainer between both divisions, and encourage operators to try new modes, expand your experience and change things up. Just try it! Put your name on the wish list. If you don't like it, you can always return to your home division. You won't know if you never try. I myself have sights remaining on LRV, Cable Car, then perhaps Inspector. Instructor? Management? Who knows... don't sell yourself short. There is plenty of opportunity at Muni.
You are a snappy dresser and wear the cap very well.
People ask me about my operator's cap all the time, since it's a throwback to what operators wore at Muni during the 1950s and '60s. It's special ordered, and pairs great with our full-dress uniform. I wear it every day and know of two other operators with similar caps. It makes the public smile and respect you! The agency should really consider bringing them back.
Any interesting experiences at Muni?
I used to have a regular on the 22 line who lived on the street at the bus stop on 17th + De Haro. Every morning I'd see him and say "hello." He kept his space very clean and liked to paint watercolors. Once a week, he'd board with a cart and always pay his fare, as he was going to Third Street to do his laundry. He learned that I liked his artwork, and one day handed me a small canvas he painted depicting an autumn nature scene. I still have it to this day.
Favorite Muni vehicle.
Well, it must be Car No. 1059! Naturally, it's painted in the Boston livery -- Mr. Boston's car!
Best experience.
I've been blessed to have many regulars on the many lines I've operated, but especially on the F line. People will ask you to pose with them for pictures. Gladly oblige! Let little children ring the gong if you're stopped and at a safe location. You must have some fun with it. This Valentine's Day, I delivered a bride -- gown, "train," attendants and all -- to City Hall aboard the car. Of course, I hopped out for a quick photo at her stop while passengers looked on. Make it special for your riders!
Best advice.
I say the key to a long rewarding career in transit relies on your patience, and kindness. Be firm, but also be willing to let little things go. Certain members of the public are going to try and get the best of you; don't give them the satisfaction. We all have our moments – we're all human – but keep control of the situation. Be patient with the new hires and passengers who require assistance. Know your rule book. It spells out what you can and cannot do and remember your training. Smile and be nice! It will take you a long way.
I have so much respect for our long-tenured senior operators, and for the rookies coming in. They're making sacrifices with their time, their families, and their days off for a better future doing what at times can be a both satisfying and dangerous job. With 15 years combined experience, I sometimes must remind myself there's always an opportunity to learn something new. Humble yourself and be safe out there! You are all appreciated and deserve recognition, not just today, but every day.
Published March 18, 2020 at 09:11AM
https://ift.tt/3a5UGnC